Certified Translation Service Areas
American Education and Translation Services (AET) has local offices in Miami, Boston, San Francisco, Los Angeles in the USA. Through internet and mails, AET also provides reliable and convenient certified translation services to all US territories (and effectively the whole world), such as NYC, Chicago, Washington DC, Philadelphia, Baltimore, Cleveland, Pittsburg, Houston, Seattle, Dallas, Detroit, and many more.
WHAT'S CERTIFIED TRANSLATION?
A certified translation consists of the following parts:
1) the original (source-language) text;
2) the translated (target-language) text;
3) a statement attesting that the translator or translation company representative believes the target-language text to be an accurate and complete translation of the source-language text, signed by the translator or translation company representative. Sometimes this statement bears the title "Certificate of Accuracy" or "Statement that Two Documents Have the Same Meaning." ATA-certified translators can attach their certification stamp to the notarized statement;
4) Notarization by a Notary Public.

Form of certified translation:
1) An official certified translation must be an original paper version, with all original signatures and stamps applied. Only the original paper version is guaranteed to be accepted by all authorities. Clients get paper versions by mails or pick up at offices.
2) PDF version. PDF version also bears all signatures and stamps. However, it is only treated as a copy, instead of original document by most authorities. Users need to print out to paper when submitting to an authority. AET sends PDF version by emails.
3) Copied on paper. It is similar to a PDF version in terms of legal power.
USE OF CERTIFIED TRANSLATION
For Immigration Services: USCIS requires certified translations of foreign documents such as birth certificates, marriage licenses and divorce certificates for visa, immigration and custom purposes.

For Academic Institutions: Most universities, colleges and credential evaluation firms require a certified translation of diplomas or transcripts as a part of the admissions process.

For other U.S. Federal and State Agencies: Examples include Passport Authorities, State Department of Licensing, the Department of Motor Vehicles and County Clerks offices.
WHY CHOOSE AET?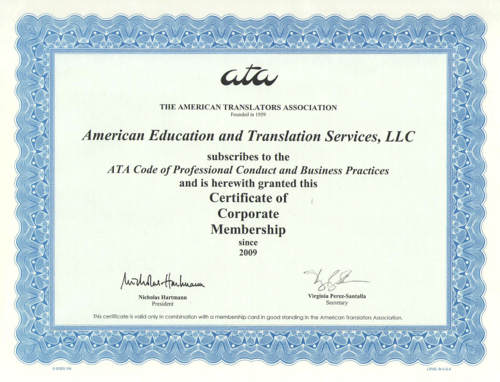 Since becoming a member of American Translators Association (ATA) in 2009, we have nearly ten years' experience doing certified translation. Each year we submit thousands of certified translations to USCIS, DMV / RMV, courts, insurance companies, banks, colleges, hospitals, US and foreign governments, etc., and 100% of them are accepted.

Picture on the right is the certificate issued by ATA. AET's membership ID is 249353.
Click to view AET in ATA website

We also stand out in the following aspects:
Highly-Experienced staffs
Accurate translation
Well designed documents
Convenient Process
online application & payment
delivery by mail
Fast Service
Finish most documents within 3 business days
COMMON DOCUMENTS PRICE
Following price table is for documents that are in langauges other than Chinese. Chinese customers should refer to our Chinese website.
Documents
Estimated Price
Processing Time
Degree Certificates
$70
5 business days
Transcript
$80 - $160
7 business days
Birth Certificate
$70
5 business days
Marriage/Divorce Certificate
$80
5 business days
Driver's License
$65
5 business days
Extra Paper Copy
$20/copy
Same as certified translation
PDF Copy
$20
Same as certified translation
Other documents
Depends on actual documents
NA
If your documents only need to be translated, please take a look at translation service.
NOTES: Above listed price is estimated and only for information purpose. AET can only give an exact quote after seeing the actual document. Feel free to call or email our Miami Office or Boston Office for more information.

HOW TO APPLY?
2. Email chosen office
The document, your contact info, any illegible contents, need extra paper copy/PDF copy or not, need rush service or not, shipping option.
3. Pay us
AET will reply with price, processing time, and payment options. AET will start translating as soon as your payment is made.
FAQ
---
It includes: an English translation and a notarization, which contains the letterhead paper of the translation company, an official stamp, a notary public seal, and the translator's and notary's signature. The materials can be used immediately after receiving them and usually do not have a specified expiration date. See samples here. Chinese Degree Certificate,Chinese Marriage Certificate,Hindi Birth Certificate.
---
If the seal isn't clear, we can address it in one of the following ways – 1) We will translate it as "illegible," which doesn't affect whether the relevant organization or school will accept it, or 2) The customer can provide a new and clearer copy or scan, which we can then translate in full.
---
You should talk to receiving organizations whether it will accept the duplicate copy. Many organizations accept the copy. But if you are applying to the USMLE or other organizations with strict criteria, we recommend using the original copy.
---
Generally speaking, you have to print and submit the PDF document in paper, which is equal to a high quality copy (not original). PDFs are not scanned documents, but created directly from software and contain all required seals and signatures. The receiving school or organization will determine whether a copy is OK.
---